SMARTWING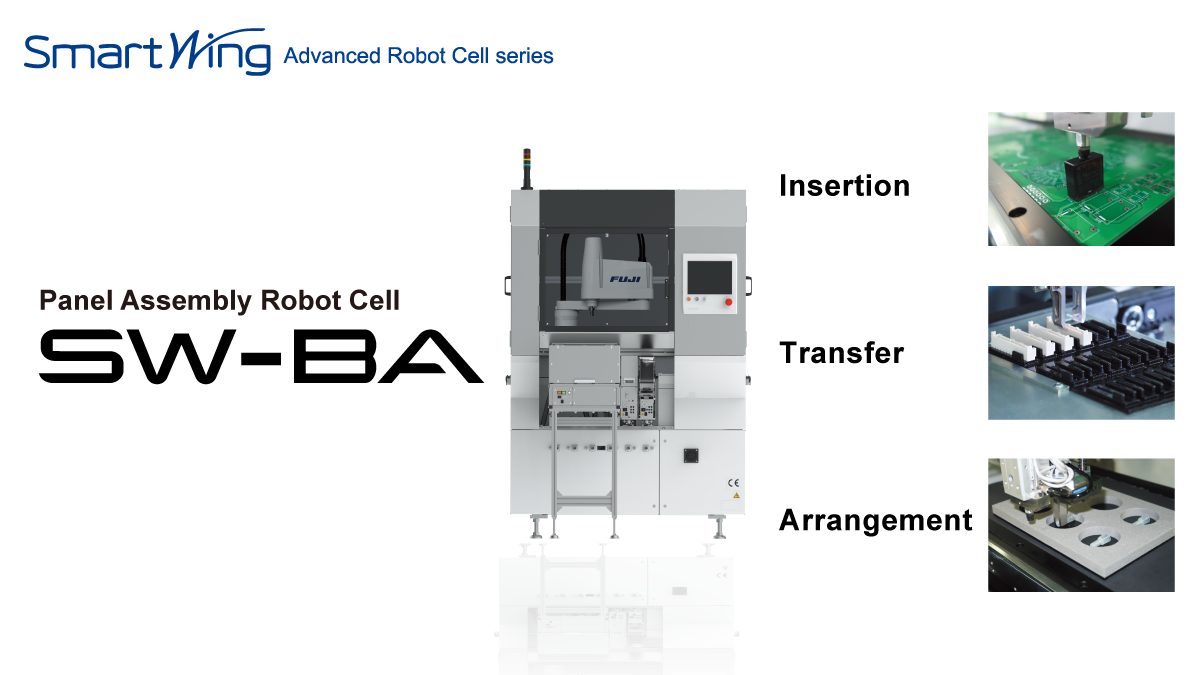 SCARA robot for automating assembly work
The newly developed SmartWing SCARA Robot is integrated with Fuji technologies that promote high accuracy to make Robot Cell configurations.
Automation at a low cost is achieved by providing the functions required for panel assembly processes as a package solution.
Easy to introduce
Get started in automation with minimal investment
SW-BA is the go-to solution for those who want to automate insertion processes, while unable to commit to large-scale investment at the outset.
With SW-BA, it is possible to start automation with a narrow set of targets in mind, and then to increase the targets once the benefits have been confirmed. (Figure 2)If high-speed insertion machines are introduced for further automation, SW-BA can be used as a machine for inserting parts for which automation is difficult due to the packaging or for transferring parts to dedicated trays. (Figure 3)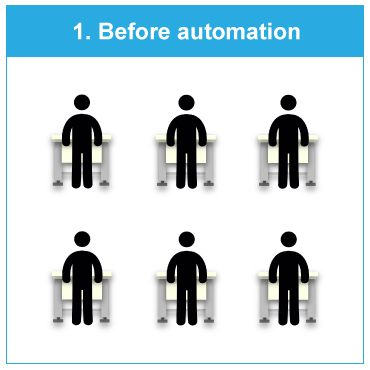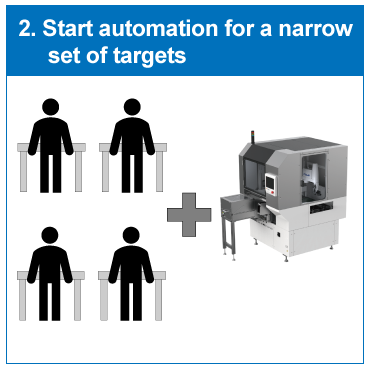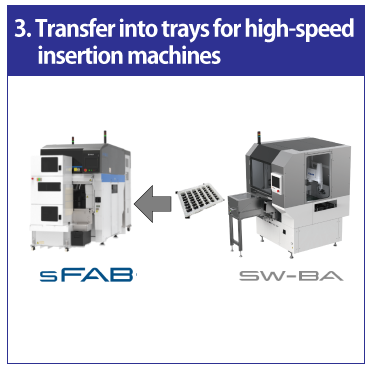 No need to change packaging
Insert workpieces as they are without repackaging
In order to automate insertion of loose parts or tray parts that have a large amount of play in the tray cavity, repackaging parts into a dedicated tray may be required. With SW-BA, automation can be started easily because parts can be supplied directly from their original packaging by using Fuji's Robot Cell Kit and vision system.
Loose workpieces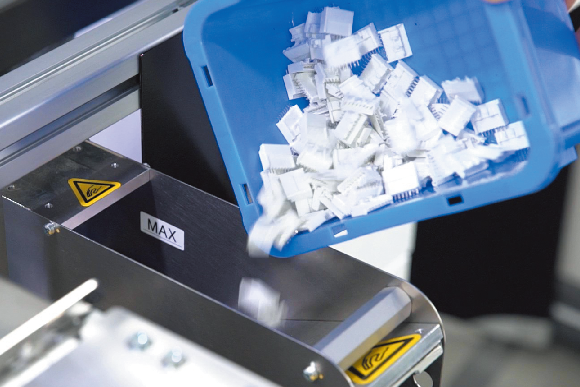 Tray workpieces with the leads facing sideways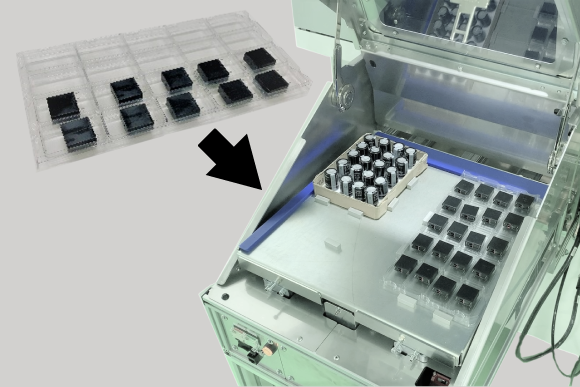 Various Robot Cell Kits
A variety Robot Cell Kits are available in a lineup of units that can be added at any time, for flexible support of various types of work.
Stage-type loose workpiece feeder-L/W160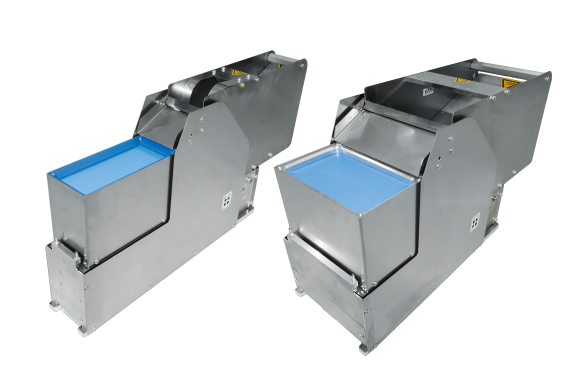 This is used to supply and separate loose-supplied parts so that they are not too close together for handling.
Tray conveyance unit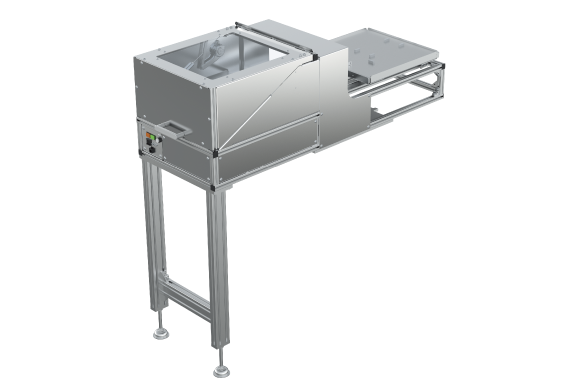 Simple trays can be supplied as is.
Rotating unit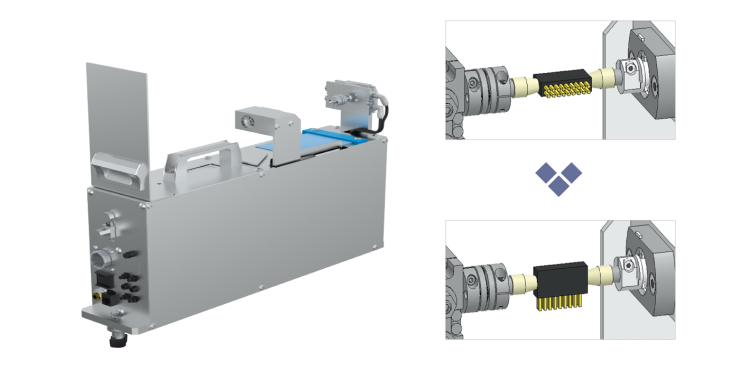 This unit receives a workpiece that has been picked up and rotates it to the correct direction to place.
Vision system that supports various types of workpieces using two cameras
Detecting the part position (wrist camera)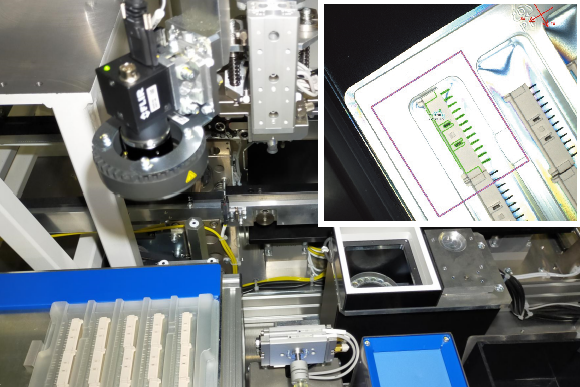 The position of the part is accurately determined by using the wrist camera attached to the robot arm.
The position of parts in trays with a large amount of play in the cavities or parts that are irregularly placed on loose workpiece feeders can be detected, making pickup of loose parts possible.
Correcting the insertion position (workpiece camera)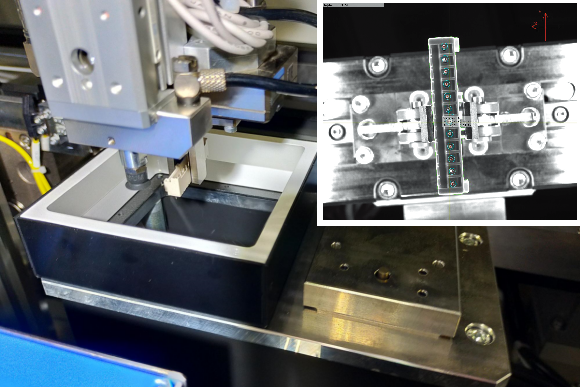 Images of parts are taken from the bottom with the workpiece camera. The pickup position is then compensated.
Also, accurate insertion can be achieved because the pin position is compensated with respect to the position of the hole on a panel and the part direction is checked and then corrected.
Easy to understand settings
Programs can be added and changed without teaching
It is possible to create production jobs and shape data easily by using the powerful tools equipped as standard that do not require specialized skills and experience.
Programming software (Job Editor)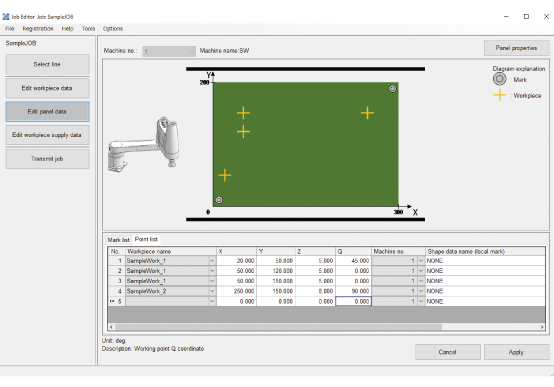 Programs are automatically created just by entering information for machine configurations, parts, trays, and panels in entry fields that are simple and easy-to-understand.
Specialist knowledge such as teaching or programming languages is not needed
Shape data creation software (Shape Editor)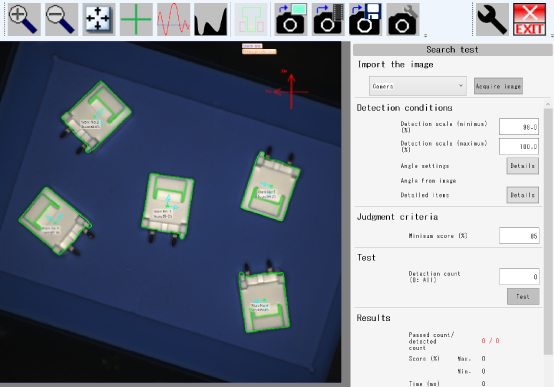 The algorithm for vision processing that is required to achieve flexible and accurate insertion is equipped as standard.
Anyone can easily create data used for vision processing just by following the instructions on the screen.
Main supported part types
Leaded parts such as connectors can be supported.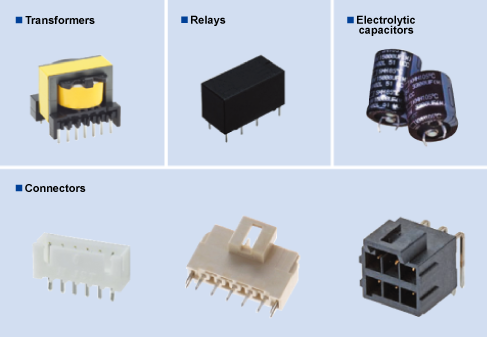 Item
Details
Workpiece size
Minimum: 4 × 4 × 4 (mm), Maximum: 40 × 40 × 75(note) (mm)
Panel size
Minimum: 50 × 50 (mm), Maximum: 400 × 380 (mm)
Panel thickness
1.2 to 6.0 mm
Camera
Wrist camera (2.3M color): Field of view 100 × 100 mm
Workpiece camera (5M black and white): Field of view 40 × 40 mm
Pressure insertion
Maximum: 98 N
Machine size (L × W × H)
1385 × 1562 × 2188 mm (platform section only)
Machine weight
700 kg (platform section only)
Power
Single phase 200 to 230 V ±10 V
Air
Exceeds 0.4 MPa
Air consumption
120 L/min (A.N.R.)
Note: There are restrictions including those for premounted parts, tray shape, and the length of the end effector.