RELIABLE PROCESS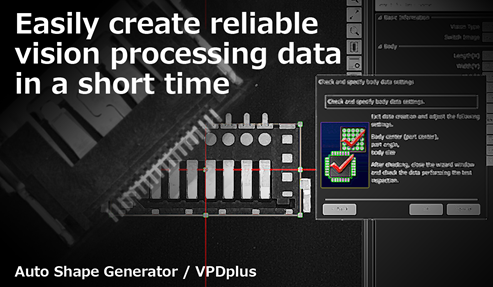 There are a lot of settings that must be specified to create vision processing data for placement machines, and creating the data for each part to be vision processed takes time and experience. Creating vision processing data becomes especially difficult when there are elements outside the part body such as the bumps and leads on package parts. These programming issues can be remedied using Fuji's Auto Shape Generator and VPDplus.
By using Auto Shape Generator and VPDplus, it becomes possible to create and edit vision processing data from acquired images on any computer with a Fuji host system (Nexim, Fuji Flexa) installed. Note: The host computer must have a vision board installed.
Features and advantages
Reduce the work required for creating vision processing data by up to 80% Once data has been created from an image of the actual part, Auto Shape Generator determines the part type and vision type automatically. No line stops or do-overs It is possible to create data offline and perform testing using that data without stopping the line because the software uses the same vision processing algorithm as that used at the machines. Anyone can create data without mistakes Settings can be specified without getting lost by following the wizard. Because it is possible to check shapes visually while specifying the settings, mistakes do not occur when creating data.
Linking to production systems
Because Auto Shape Generator is linked to the machine via the network, the programmer does not need to move to the factory floor to create and edit vision processing data. Even if a vision processing error does occur, vision processing data can be corrected promptly using the image acquired from the machine, and therefore downtime can be kept to a minimum.
BACK TO TOP