SUPPLY TRAY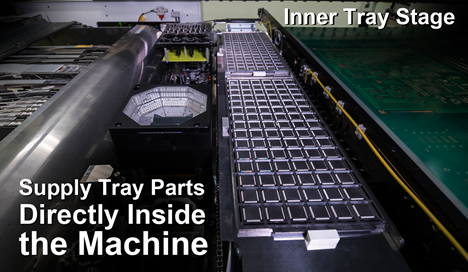 Up until now Fuji has developed and delivered many different tray part supply units that meet various needs, such as the tray unit-LT, and the stacked tray feeder. However, because electronics have such a short life cycle, the quantity and ratio of parts used changes frequently with changes in the product type. In these situations, we need to respond quickly to new challenges such as the following.
• When proportionately more reel parts need to be used, and there is not enough space remaining to load a tray unit at a part supply stage.
• When proportionately more tray parts need to be used, and not all parts can be loaded into the tray unit.
• When only a few tray parts are used, and it might be better if there was an option that did not require an investment in a large tray unit. In answer to these kinds of issues, Fuji has developed the new "inner tray stage".
Features and advantages
• Tray parts can be supplied without using dedicated units.
• Because trays are only taking up space within the machine, all feeder slots are left available for loading feeders.
• Costs less than a tray unit.
Inner tray stage basic specifications
| | |
| --- | --- |
| Supported machines | AIMEX III (single conveyor) |
| Supported heads | DX (R4, S1) |
| Supported trays | Up to 136.15 x 322.85mm (JEDEC tray) |
| Maximum part thickness | 19mm (including tray) |
| Maximum loadable tray quantity | 2 |
BACK TO TOP