NEWS
Fuji America Announces 2018 Sales Representative of the Year Awards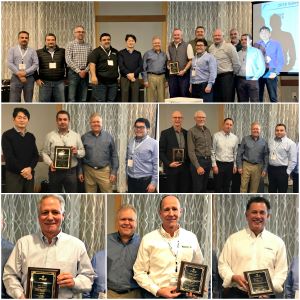 March 15, 2019, Vernon Hills, IL – Fuji America Corporation proudly announces their 2018 Sales Award Winners. Sales Achievements were recognized and presented to the following:


• Highest All-Around Sales Activity: Alfredo Plazola, Osbaldo Rodriguez, Sean McMillen, Luis Saenz, Eric Culbertson, Ricardo Fuentes, Randy Nelson, Everardo Jaime, Alfredo Hernandez, Jorge De La Rosa - PAC Global USA & Mexico
• Sales Rep of the Year: Alfredo Hernandez - PAC Global Mexico
• Global Account Management: Robert Jones - Lean Steam
• AIMEXIII Sales Promotion: Jeff Kline, Boris Mathiszik, Steve Oltmann, Habacuc Molina - CEME
• Outstanding Sales Award: Paul Notti - Equipment Sales
• Technology Award: Don Ernst - Bartron, Inc.

The award winners were announced during the 2019 IPC APEX Expo in San Diego, CA, at Fuji's National Sales Meeting.

Tom Zabkiewicz, Executive Vice President commented: "We are proud to present these awards to highlight the hard work, dedication and expertise displayed by our North American Rep network. It's so important to have top quality representatives to support our Fuji customers in today's demanding, ever-changing marketplace, and it gives us great pleasure to be able to recognize the achievements of these individuals."

Fuji's sales representatives of the year are awarded each year, recognizing the company's outstanding representatives in the Electronics industry. Candidates are nominated by Fuji's Regional Sales Manager and Technical team, and are selected based on a variety of qualifications.

For more information on Fuji's SMT and Nexim Smart Factory products, please visit our website: www.fujiamerica.com. Also, be sure view our full trade show schedule on our site, and follow us on LinkedIn for the latest company news.